December 7, 2009
The red rubber ball lies so still and
reminds me of a time.
When playful paws would run and play,
and toss it all around.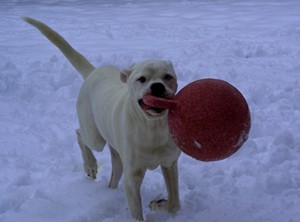 It rolled right to this very spot and
hasn't been moved since
It's been here for so long now,
the grass beneath it sinks.
It used to serve a purpose for
a game of keep away or tug.
A constant source of simple smiles and
an unconditional love.
Within this soft indention are many
memories and more,
of my dog that rolled this ball and
left his paw prints on my heart.
A new energy may someday find
this ball that needs to roll.
For now it sits here quietly
waiting to play once more.
The red rubber ball lies so still and
reminds me of a time…
Kelly Kaliszewski