Love Adds Up™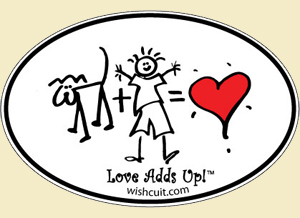 Inspired by my dog Cain, the Love Adds Up™ image is an original design which depicts all dogs, regardless of breed, and the unconditional love that they share with us.

Make an impact with Love Adds Up™. This heartfelt decal looks great on the back of a car, a scooter, a wagon, a stroller, a riding lawn mower, a motor home, a motorcycle, a suitcase, a guitar case…you get the picture!

The image, and its message, have traveled around the globe, and can be found throughout the United States, South Africa, The Netherlands, England, Canada and Curacao. So hop on board and join us! Show the love for your dog, and pay it forward to canine causes by purchasing your sticker or magnet today!

Drop us a line or a photo, and let us know where your Love Adds Up™!
Wishcuit has raised thousand of dollars for cancer studies that treat naturally occurring cancer in dogs. The net proceeds from Love Adds Up™ support canine cancer studies & treatment, and non-profit animal rescues.
Please visit Who We Support for a list of the organizations and non profits we have supported through donations from Love Adds Up™.

For wholesale inquiries, please email kelly@wishcuit.com
Love Adds Up™ is an original drawing. – copyright© 2010 Kelly Kaliszewski for Wishcuit