Love Adds Up For A Cure™…Stick It To Canine Cancer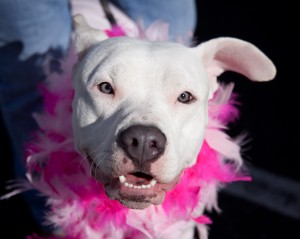 My name is Zoey and I want to welcome you to Love Adds Up For A Cure™. I'm the official spokesdog, and I'm thrilled that you have found your way here because what that tells me is you want to help find a cure for canine cancer too!
Cancer accounts for nearly 50% of all disease related pet deaths each year, and it claims the life of 1 in 4 dogs. My mom, Wishcuit founder Kelly K, lost her very best friend Cain to cancer in 2009, and she embarked on a mission to raise awareness and funds to help wipe out cancer. With that being said, I have decided to do something about it too, and don't let my frilly appearance fool you!
I'm a pit bull on a mission, and I've teamed up with Kelly to inspire you to help make a difference in the lives of dogs. I'm raising money for canine cancer, and even though my schedule is exhausting at times, it feels great to help whenever I can. I'm short on talent, (though I give a pretty awesome "high five"), and rely mostly on my good looks, my HUGE heart, and my wonderful disposition to persuade folks to join our cause. So there you have it…I've got big paws to fill, and I'm challenging everyone that I meet to get their very own Love Adds Up™ sticker or magnet, and together let's STICK IT TO CANINE CANCER!
Here's how easy the challenge is…Click on Love Adds Up™, select Love Adds Up for a Cure from the drop down menu, and buy your sticker or magnet. Told you it was easy!! Wishcuit will take it from there and make the donation.*
Oh, and one more thing…Wishcuit has it's own Facebook page, and I would love for you to follow me too on my special page at Zoey Says Stick It To Canine Cancer. Please spread the word. LOVE ADDS UP FOR A CURE™…LET'S STICK IT TO CANINE CANCER!
For The Love of Cain Always – FTLoCA❤
*Millions of dogs are diagnosed with cancer each year! Through sales of our Love Adds Up stickers and magnets, our initial goal is to raise one million dollars for canine cancer research and treatment, so we may someday find a cure for cancer.