Wishcuit™ (rhymes with "biscuit") is dedicated to improving the lives of all dogs and supports the efforts of organizations, and non profits that improve their health and welfare. We offer unique products that give back with every purchase, and feel that helping others is as simple, and easy as a stick figure drawing!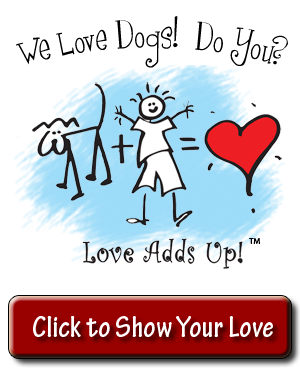 This cute, stylish, stick-figure design is the
official international symbol
for "Love Adds Up™", a bold and ambitious campaign designed to let dog lovers
SHOW THEIR LOVE FOR THEIR DOG!
Proceeds are donated to canine cancer research and treatment and rescues.
The design is available on stickers, magnets, apparel, and other goods and products. The stickers have been spotted in South Africa, USA, and The Netherlands, to name a few.
HOW CAN YOU GET INVOLVED? IT'S EASY!
1) Click here and buy a sticker!
2) Tell your friends about Wishcuit (or buy a sticker for them too).
3) Display your alliance with the LOVE ADDS UP™ community!
HOW DOES IT WORK?
We raise and donate funds for canine cancer research and treatment, and organizations that provide financial assistance to families who are unable to afford oncology treatment for their pets that has been diagnosed with cancer. We also support no-kill shelters and provide user-selectable options for donations.
DID YOU KNOW?
* Canine cancer accounts for nearly 50% of all disease related pet deaths each year.
* Canine cancer is the #1 natural cause of death in older pets.
* Dogs get cancer at roughly the same rate as humans.
* One in four dogs die of cancer!
Help find a cure for canine cancer! It's an easy, affordable way to make a difference, and a simple philosophy that says it doesn't take a lot of change to make change.
How Wishcuit Is Making An Impact!

Wishcuit has been part of numerous fundraising and awareness efforts, including canine cancer walks, rescue events, and industry trade shows. Wishcuit also hosted the first "Pit Bull Awareness Day" in Littleton, Colorado, where over 75 pit bulls and their human companions peacefully got together and paraded through the streets of downtown Littleton. Through these, and other efforts, Wishcuit has donated money, toys, food, and other pet supplies – as well as raised the awareness of canine cancer and dog rescue issues.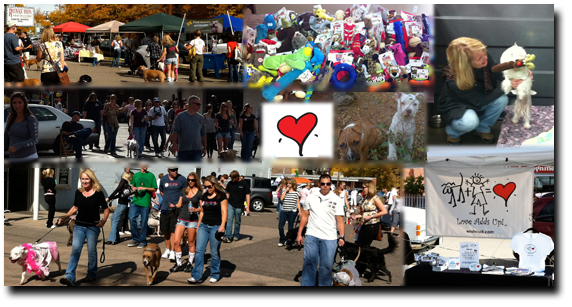 Let's make an impact together!