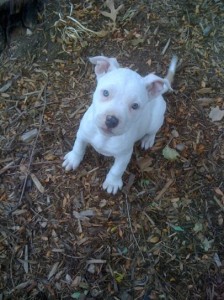 It was three years ago today on 10-10-10, that I made my entrance into the world in a small town in Wyoming. Just ten days into my life, everything changed when my siblings and I were rescued by a very special person by the name of Trinity who ultimately brought me to my mom.
Wow…three years…the time has gone so fast, and I give a great big thank you to Miss Trinity for rescuing me, and a great big thank you to all of you for following my shenanigans, and helping me raise awareness about canine cancer. Because of you, my wish to help others continues to grow each day.
Speaking of wishes I always make 10, and on this day, as I celebrate of one more year, I'm sharing these 10 wishes with you, plus one to grow on…

On a light, easy note, I wish for…
1. Smiles! Right this very second, and each and every morning…smile…light up the world with happiness
2. Love♥ Tell someone (or everyone you love for that matter), that you love them
3. Kindness. Plain and simple. Be kind to one another, really kind. Try to do at least one unnecessary act of kindness each day
On a serious note I wish that…
4. Someday the name of my blog and Facebook page will be changed to say, "Zoey Says We Stuck It To Canine Cancer!
5. Wishcuit's Warning Signs of Cancer in Pet Animals* info will be shared, and shared, and shared some more, so more pets can be diagnosed earlier and saved
6. My Facebook page will reach 5000 more people by the end of the year. Okay, that may be a little over zealous, but hey, it's my birthday, right?! And after 10,000 comes even more, which leads me to my next wish…
7. My Facebook page will be shared with everyone you know who has a sincere wish to end canine cancer
8. Love Adds Up will make an even bigger impact on finding a cure and helping animals in need. Every time I see a Love Adds Up sticker on the bumper of a car, I do the zoomies knowing that it's helping to find a cure for canine cancer. Help me find a cure and get your Love Adds Up sticker here!
On a fun note I wish…
9. That the fall issue of American Dog Magazine will arrive in my mailbox soon
10. I'll have more snuggle time with my mom, and…
11. To keep spreading pit bull cheer with everyone I meet!
So here's to one more year, and making wishes come true! xoxo ~Zo
*