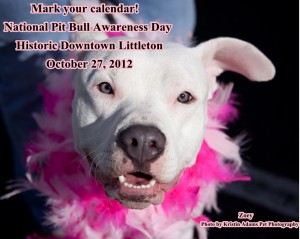 We'll be celebrating National Pit Bull Awareness Day in Littleton, Colorado on October 27, and I'm so excited to once again be leading the parade down Main Street! Along with this year's festivities, we've added a special mission for the day called Pit Bulls With a Purpose, in which we are raising funds to be donated to Colorado State University Animal Cancer Center!!!
Dogs get cancer at roughly the same rate as humans, and according to the Morris Animal Foundation, one in four dogs will die from this ugly disease. The mission of Colorado State University Animal Cancer Center is to improve the prevention, diagnosis and treatment of cancer in pet animals. They offer advanced treatments, which include surgery, chemotherapy and radiation therapy, and their research and knowledge helps benefit people with cancer through comparative oncology.
I am very excited about the amazing developments being made by CSU Animal Cancer Center to help find a cure for cancer, and all that they do for animals. Please put your paws on the ChipIn below, and let's get this party started a little early!!
For more information on the celebration, please visit Facebook at National Pit Bull Awareness Day Colorado, or Mile High For Pits – National Pit bull Awareness Day Colorado.