We're holding a "Your Three Words" photo contest!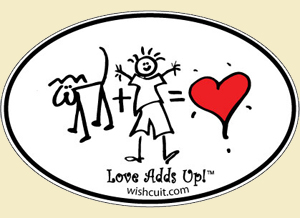 Wishcuit™ raises money for rescues and canine cancer research & treatment from the sales of our Love Adds Up™ products, and we want to give you the opportunity to show the love for your dog by sharing a photo of your canine friend/s.
HOW TO ENTER: Submit a photo of your dog to Kelly at kelly@wishcuit.com with your full name, your dog's name, and a three word caption of your photo. Photos will be accepted beginning May 9 and the deadline for submissions is May 15, 2012. Photo MUST be of your dog and you MUST own the copyright. Photo may include multiple dogs. All photo submissions will be posted on May 16, 2012, and will remain on the Wishcuit Facebook page through contest period which will be held May 16-31, 2012. The contest is open to all dogs, and only 1 entry per dog is allowed.
HOW WINNERS WILL BE DETERMINED: There will be a total of six (6) winning photos, and the process will be as follows:
Three (3) winners,1st, 2nd and 3rd place, will be determined by number of votes (likes), AND of the remaining entries, three (3) winners will be chosen by random drawing for a total of six (6) prizes and opportunities to win.
Submit all photos, questions, or comments concerning the contest to kelly@wishcuit.com, and please include the following with your submission:
Owner's Name
Dog/s Name
Your Three Words
PRIZES: Lots of pawsome vendors have donated products, which include a variety of items for dogs, and we will be featuring them over the length of the contest.
Contest begins May 16, 2012, and ends at midnight (MST) on May 31, 2012. Winners will be announced on the Wishcuit Facebook page on June 1, 2012, and at that time we will collect winners' addresses for prizes to be mailed.
We love dogs…let's see yours!
A very special thank you to the vendors who have donated items to our photo contest prize baskets:
(more being added daily!)
Addiction Pet Foods
Bowzer's
Bravo
Earthbath
Furry Friends Biscuit Bakery
Natura Pet Products
Nature's Variety