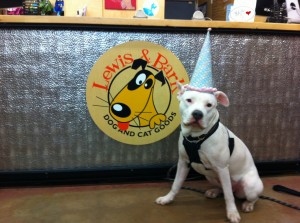 One of the places that I hang out at is Lewis & Bark in Littleton, Colorado. It's this great store that specializes in all natural products for dogs and cats, including one of my favorite foods by Canine Caviar. They've got everything a dog could dream about treats, toys, more treats, more toys, and Love Adds Up stickers too! It's pretty cool because I get to meet lots of awesome people, and snack on yummy treats, but the best part of it all is getting to play with lots of the dogs that come into the store. Just another one of the perks of my job!
The word is getting out around town that I'm a real social butterfly, and people are actually bringing their dogs in so they can learn some social skills…taught by me…Zoey the Pit Bull!!! For some reason, my mom thinks this is really awesome that I'm the one teaching them how to be good social citizens. I just say, I don't know how else to be since she taught me from an early age that we all need to learn how to get along. Zoey's my name, and being social is my claim to fame 🙂 Geez, she's weird sometimes!
Oh well, enough about the social stuff since what I really need to bark about is our partnership with Lewis & Bark in the Love Adds Up for a Cure campaign. They're our first store in Colorado to join the campaign, and I'm off and barking with ninety nine to go!