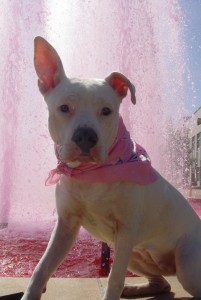 The fifth annual National Pit Bull Awareness Day will take place on Saturday, October 22, 2011, and groups across the country that advocate for pit bulls will be hosting some extra spectacular events.
Did you know that pit bull does not refer to a specific breed? It is actually a generic term often used to describe the characteristics of three breeds of dogs; the American Pit Bull Terrier, the American Staffordshire Terrier and the Staffordshire Bull Terrier. Dogs that are often labeled as "pit bulls" may include, Boxers, American Bulldogs, Presa Canario, and the Cane Corso, just to name a few. Most people are unable to recognize the differences between these breeds, among others, and often times make judgments which are based simply on the way a dog looks.
Pit bulls are the most misunderstood type of dog in our society, and the media has helped perpetuate this problem by spreading myths and sensationalizing negative pit bull stories.
While events on Pit Bull Awareness Day will aim to dispel pit bull myths, some will also be offering additional information such as training tips, fly ball and agility demonstrations, spay & neuter information, and education on the dangers of breed discriminatory legislation. One thing's for sure though, they'll all pack in a whole lot of information and fun!
If you're in Colorado, join us as Wishcuit hosts the National Pit Bull Awareness Day Colorado/Parade of Pit Bulls in Historic Downtown Littleton. Zoey and I will be there celebrating with a bunch of our friends! If you're not, check out Bless the Bullys. They initiated National Pit Bull Awareness Day in 2007, and there's a whole list of events on their website. One of them might be near you!
This is an older video, and some of you might have seen this before, but I'll share Heroes once again!