I'm assuming everyone knows or has heard about Kong products, but just in case, I'll give you a little history.
It all started with a German Shepherd, by the name of Fritz, his owner Joe Markham and a Volkswagon Van. As the story goes, Fritz was fond of rocks, which of course wore his teeth down. One day while Joe was working on his van, he tossed a suspension part to Fritz, out of desperation, to deter him from chewing on rocks. Fritz was ecstatic, and right away, Joe realized its potential!
As their brochure claims, in 1976 the Kong Company established "the standard" for dog toy performance and durability. Their first chew toy, a bright red, bouncy rubber toy, known as the Kong Classic, has been their gold standard from the beginning. Stuffed with treats, it keeps dogs busy and deters misbehaving, but whether filled or not, it provides great bouncy, chewy, teeth cleaning entertainment.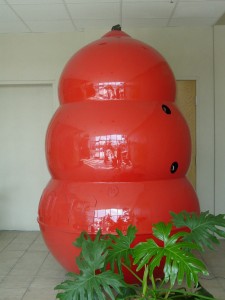 They come in all different sizes, for all different levels of chewers, beginning with Kong Puppy all the way to Kong Senior, and all dogs in between. And if you've got power chewers like I do, they've even got the Kong Extreme. With an array of stuffers and squeezy stuff, any style of this stuffable, treat dispensing toy will help make it easier to keep you pup busy and challenged for hours!
There have been a lot of great products added since those early days of the Kong Classic. Kong Genius toys are puzzles which are designed to stimulate a dog's curiosity and hold their attention, while the Kong Interactive strengthens the bond between you and your dog. Kong Wubba are great squeaky, shaky toys for indoor use, and for outdoor time, there are AirDog Squeakers, which are coated in a nonabrasive tennis ball fabric that won't wear down your dog's teeth. The list goes on with the Wobbler and Kong Dental, BraidZ and Ballistic, Knots and Squiggles, Plush and Pet Stix; and that's before we get into goodies for cats! That's a lot of Kong stuff, and you can read more about all of their products on the Kong website.
So by now you're probably wondering where I'm going with all of this. Well the Kong Company, is nearly in my own backyard, and a couple of weeks ago I stopped in for a visit to gather some information for an idea I've been bouncing around (which will be announced in the upcoming weeks), and to get more information on their products. The folks at Kong were very gracious with their time, AND they went a step beyond sharing their time because they also sent me a basket of great Kong goodies to share!
Watch on Facebook over the next few weeks to see how you can get in the running for great Kong toy give aways on Wishcuit's Fabulous Friday Freebies!