SAVE THE DATE!!!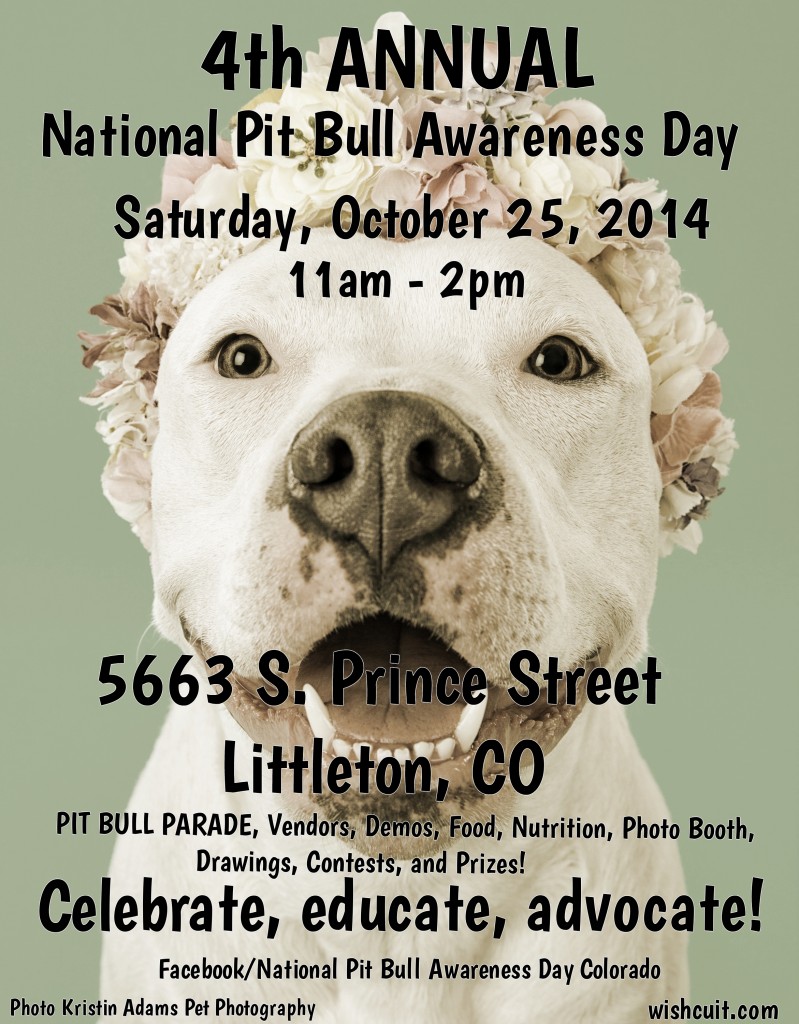 We'll be parading the streets of Historic Downtown Littleton once again on October 25, 2014!!
Mark your calendar, and plan to join us for the 4th Annual National Pit Bull Awareness Day Colorado "Parade of Pit Bulls and Friends" in historic downtown Littleton, Colorado!
Bring your well behaved dog for a fun filled afternoon that includes the ever popular Parade of Pit Bulls along the sidewalks of Main Street in downtown Littleton, followed by an afternoon of celebration.
This year's theme is, "Behind every good pit bull is an
OUTSTANDING pit bull advocate", and as in previous year's celebrations, we will also be raising funds for a pit bull friendly Colorado rescue, and the CSU Animal Cancer Center.
11 AM – The fun begins at 11am in the Reinke Brothers parking lot, which will allow plenty of time to browse the vendors, chat with a trainer, pose with your best friend/s in our fun photo booth, bob for hot dogs, and enter drawings that will benefit a pit bull rescue.
12 PM – The parade will take off at 12:00 noon (SHARP), and participants walking the pumpkin lined sidewalks of Main Street will have the chance to show off their best friend as we make the loop through town, stopping for treats along the way, and a group photo op in the park, before winding our way back to the venue.
The parade/event is open to ALL well behaved dogs, AND dog/human costumes are highly encouraged!
Don't forget your wallet!! The afternoon will continue until 2:00 pm complete with music, food, vendors, a pet caricature artist, humane education for the kids, Pit Bull Advocacy, nutrition expert, and the ever popular contests for best costume (male and female), biggest head, biggest bully grin, and best trick.
12:45 – Training Demo – K9 Minds
1:00 – Presentation: Being a positive advocate
1:15 – Presentation: Nutrition
1:30 – Contests
Don't forget…mark your calendar for October 25, dash over to the event page and RSVP, and get ready to party like a pit bull!