Recently I was out making sales calls with my mom when she surprised me with a side trip to the most amazing place. It had been a long day, and I was getting very tired, but she promised that our second to the last stop of the day would be loads of fun, and she wasn't kidding!
As we pulled into the parking lot, I looked up to the top of the building and stared at the big red letters that spelled out KONG! Practically everyone has heard of the Kong Company, but if you haven't then just click on the link and check out all of the fabulous products that they manufacture for dogs and cats. This was incredible to find out that Kong is practically in my backyard. Well, it's within sniffing distance anyways! It was so much fun, and the folks at Kong really love dogs, and take their jobs seriously. They gave me a Kong Extreme just for stopping by, plus I got to check out the world's largest Kong, unstuffed of course!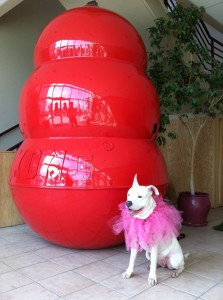 Kong was pawsome, but just as pawsome are the new businesses that are partnering with Love Adds Up for a Cure. We completed our day with a visit to The Green Paw and Spaw, who placed a second order; this time doubled! Joining us earlier in the day were Pet Outfitters, in Cherry Hills, The Pet Empawrium & Spaw, near Old Town Arvada, and Chow Down, in the mountain town of Evergreen, and who unfortunately does not have a website.
Thank you, thank you to all of our partners, and Kong. And to canine cancer I say, "Be afraid cancer, be very afraid!!!"