It's Zoey here with some great news to share with everyone…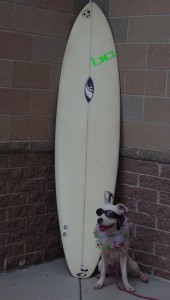 I have a new friend that I'm following, and her name is Ricochet. For those of you who might not know who I'm talking about, Ricochet is one of the most pawesome surf dogs there is! Surf Dog Ricochet is what they call her, and she's one of the top surfing dogs in the country.
Ricochet started out early in her career training as a service dog, but as she got a little bit older she decided she also liked to chase critters. Uh-oh, can't do that when you're a service dog! Anyways, during that time, she also found out she could balance pretty well on a boogie board. Stay with me here! She combined her highly skilled background of service and therapy training, with surf dog training, and is now the only known dog in the world who surfs with disabled surfers and special needs kids, for therapeutic purposes! When it comes to surf competitions, her focus is on assisting the disabled community, and other human & animal causes. The part I like best of all is she raises lots of funds and awareness for a ton of great causes and charities!
On September 25, 2011, Huntington Beach (my mom's old stompin' grounds and where surf is BIG!) will be hosting the 3rd Annual Surf City Surf Dog event, which is the premier dog surfing competition on the circuit. Surfing is their claim to fame in Huntington Beach, and as if that's not enough, they love dogs too! They have one of the largest dog beaches in California, with over one mile of sand devoted to dogs and their families! Woofabunga dude, I'm stoked!
So by now you're asking, "Where's Zoey going with all this talk of surf and sand?" Well hold on and I'll tell you! Ricochet will be surfing at the Surf City Surf Dog event to raise funds for our friends at Chase Away K9 Cancer, and we want to help Ricochet raise lots of money and help bury canine cancer deep in the sand! Woof! Woof! I'm amped (that means 'excited' in surf talk!) to let everyone know that all you need to do to help us bury cancer is hop over to Love Adds Up or Love Grows, buy a sticker, magnet or seed heart, select Surf Dog Ricochet from the drop down menu, and we'll send the donation to her!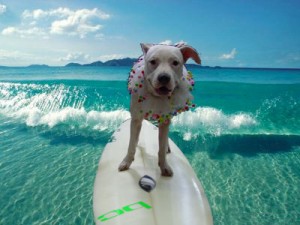 We're jonesin for some cranking waves (more surf talk!) on the 25th, and we'll be cheering Ricochet on from our boards in Colorado! Woofabunga!
Oh, and did you really think that we do a lot of surfing here in Colorado? Big thanks goes out to Dave, Mike, Luke, Evan and the rest of the guys at BC Surf & Sport in Lone Tree, Colorado for letting use the pawesome board, toting the board around on location, and shooting me from my good side! Surf's up!!