It's the 14th, and as a reminder, don't forget to check you dog for lumps and bumps!
How To Check
No matter how old your dog is, please take ten minutes of your time to give your dog an extra special massage today, your dog will love you for it! Start from their head, work down to their toes, and don't forget to check inside their mouth. Make sure to keep records on a diagram or photo of your dog, that way if a new lump appears in the future it makes it easier to spot. Not all lumps are cancerous, but given the fact that cancer affects 1 in 3 dogs, these ten minutes of your time could make a difference in treatment and prognosis. Be vigilant!
From the time she was two years old, my lab Sadie has been prone to lumps and bumps. Up until two weeks ago, all of them have been fatty tumors, but on the morning that I woke up to the lump behind her front leg, I knew immediately it was different. It's been two weeks since her surgery to remove a mast cell tumor, and Sadie has rebounded nicely. She even chased a fox out of the field this morning! I'm certain that she's really tired of wearing the cone around her neck, wanting nothing more than to roll on her back in the grass. The walls of my house are positive proof that there will also be some paint touch up to be done! Additionally, I want to report that I received Sadie's pathology report today, and the mast cell tumor that was removed has been graded a Stage 1, bordering on a Stage 2.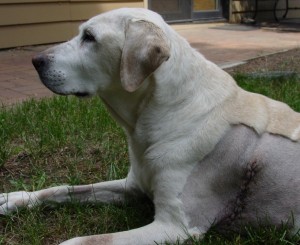 What Are The Stages?
Staging refers to the degree in which the cancer has already spread at the time of diagnosis. Tumors that are caught early, before they have invaded other tissues, obviously carry the most optimistic prognosis. Stage 1 refers to a single tumor with clean margins and no signs of spreading. Stage 2 and Stage 3 show progressively greater signs of invasion, perhaps to local lymph nodes, demonstrating dirty margins, or presenting as multiple tumors. Stage 4 involves systemic metastasis and carries a grave prognosis. We're staying positive, but since Sadie is bordering on a "2", we'll be watching her very closely, especially at the incision site, for any signs of new growths. In Sadie's case, she'll be getting quite a few massages each month!
Thanks to our friends at Chase Away K-9 Cancer, and Cera Reusser, who founded Chase Away K-9 Cancer in memory of her dog Chase who passed away from cancer at the age of six. Cera created this monthly check on the 14th of each month in honor of Chase's birthday, and to date Chase Away K-9 Cancer has raised nearly $500,000 for canine cancer studies!
Wishcuit proudly supports Chase Away K-9 Cancer through the Love Adds Up and Love Grows campaigns. Download their monthly reminder, and share it with all of your dog loving friends!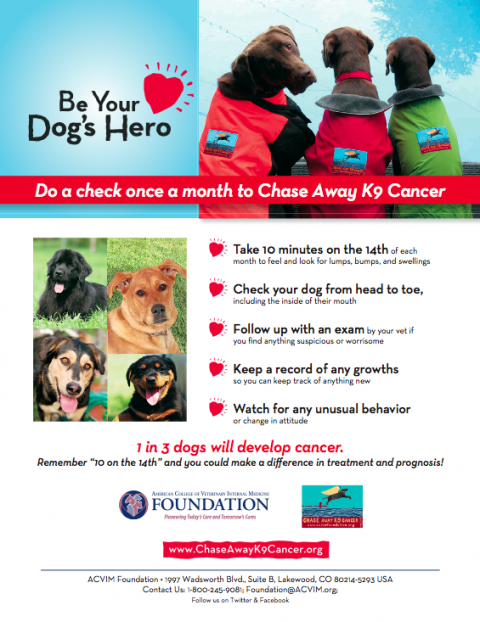 <