Happy Valentine's Day❤ Today's video is sweet, and proves there is nothing stronger than love; it continues forever and on. It includes companions both past and present, and there are some beautiful thoughts shared.

There are many rescues with dogs waiting to find forever homes. Our featured rescues for this week include: From the Heart Rescue, Have a Heart and Stray From the Heart.
Messages from the heart. Thanks to everyone for sharing these beautiful messages, and allowing me to pass them along.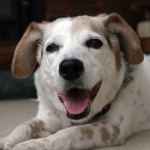 Sophie – "Such a great and complete spirit that to call her my soul mate would be to do her a great injustice. But she was my partner, my anchor and wings. I envy heaven." ~Aileen W.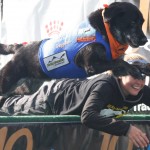 Gryphon – "Also known as Grits or Gritty, was an extraordinary soul who never met a stranger, acted like the town Mayor, lived every moment as though it were his last, kept Mom and Dad constantly on their toes with his escapades, and fought cancer twice with undaunted courage. He simply was, the Best Dog Ever, and he is missed every second of every day." ~Heather Ratynski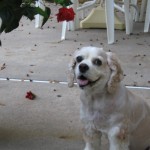 Alex – "Until my first dog, Alex, I never knew the depth one could love. The laughter and love she gave in return is forever in my heart. She was such a pretty girl and as many would tell her that, I was a proud Mom that would just glow inside. 9 1/2 years later she fought a courageous battle and through our experience together, Alex continues to inspire me each day. As it always did, her little nub is still wagging!" ~Tonya Cochran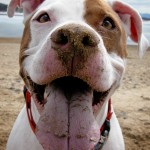 Chino – "Words can't express how much he means to me…he fills my heart with so much happiness and we love each other unconditionally." ~Kristin Adams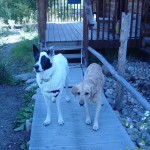 D.O.G. – "So many great memories of our girl…too many to try to single out one…she still brings us great joy for having known her, but still miss her as if it were yesterday when she passed…the tears
blur the vision…but not the love we have for her….A true musicians friend….D.O.G. loved being on stage…that dog loved to front any band." ~Kenny Smith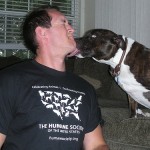 Plaxico Burress Wiggles Sadler – aka Plaxico, is the best friend to Jason Sadler.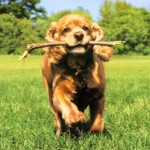 Brandy Noel – (excerpts taken from Carol Bryant's beautiful tribute to Brandy Noel) – "I once read that you don't pick a dog; that the dogs in your life pick you. How very true those words resonated on December 19, 1993. The moment our eyes locked amidst the barking and chaos, we were hooked.


Maybe you know this look, the gaze that refuses to let go the first time your eyes lock. It is said that when you find "the one," your true love in this life, it's as if time stands still. You are not just in the moment, you are the moment. This was ours.

In her time on Earth, she went on every vacation with us and shared her love and zest for life every step of the way. From the beaches of Maine and Cape Cod to the Grand Ole Opry in Tennessee, the Pocono Mountains of Pennsylvania, and even the battlefields of Gettysburg… a photo album of her life shows that warm cocker smile and eternal puppy gaze that endeared her to us and those she encountered. For the memories etched in our hearts, we are forever grateful.

She is definitely in heaven, the heaven that is a mere breath away, and she has come to us in our dreams, in the stars, and has given us very unique signs that she is amongst us. But the day to day living and not having her here, the routines we shared, the love and bond of physical closeness…. those we miss the most.

Brandy, we miss you and always will. Fly high amongst the heavens, dear sweet girl, and look to the Rainbow Bridge for the day our souls reunite as one. We love you dearly, Mighty Dog forever." ~Carol Bryant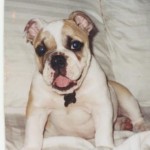 Audrey – "Audrey was a special little bulldog from the moment I saw her. She was all of 6lbs and her block head was bigger than her body. She had the bulldog waddle and was beautiful. I named her Audrey after the great Audrey Hepburn because my dog was as beautiful as the talented late actress.
Everyone in Boston knew Audrey. People would see her on the street and cross just to say hi! Of course I am bias but she was a doll. Audrey was with me for 6 1/2 years before we lost her to liver cancer. Because I loved my dog so much I wanted to open a store that she would be proud of! I feel so honored and lucky to go to work every day and it is all because of "bulldog love"! And I think she would approve… Her memory lives on each and every day." ~Brittany Bang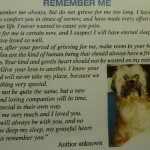 Gizmo – Loved D'D and Ty!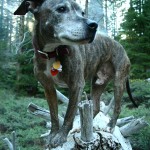 Gromit – Jason was his best friend, and he had a tremendous zest for life. There was no better tree climber!
Chuck – Teaching Kayla that there is a reason to hurry home!