November 16, 2010
I love the philosophy of the Humane Society of the South Platte Valley: to save as many animals as they can.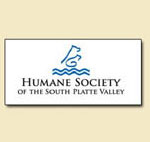 Since opening their doors in December 2009, they have utilized their resources and rehabilitated animals that other welfare organizations might not have chosen to take on, and in doing so have helped many animals realize a second shot at a wonderful new life.
They are an open admission shelter and along with taking in lost and abandoned animals, they also partner with small shelters in outlying areas of Colorado and municipal shelters within the metro area and step in to assist them when they are forced to make difficult decisions based on resources and capacities.
They are one of two shelters in the state that provide enrichment programs for the animals in their care. This includes play groups for both dogs and cats, and there is never a time limit for placement.
All animals reap the benefits of rehabilitation, even if it takes months, so that their second shot with a new family will be forever.
We're proud to partner with the Humane Society of the South Platte Valley in the Love Adds Up campaign.