"Either define the moment or the moment will define you." ~
Walt Whitman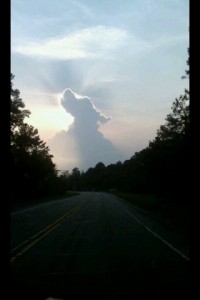 There are many moments in life that define us, whether good or bad, they contribute to and become a part of who we are. Each moment that passes leaves an imprint on our soul and while many times we react immediately to the experience, sometimes we inadvertently let something lay buried and it silently shapes and molds us into what we will become as it nudges its way back to the surface.
It was a summer day in 1999 that is still just as crystal clear in my mind as if it were yesterday…
He was the runt of the litter. He was the dog that I had told my son, Jud, that he shouldn't get because he was in college, and had very little time to devote to a pet. He was the dog that Jud stood holding tightly in his arms; homely, droopy eyed, a wrinkly bundle of pink, saggy skin and scruffy white fur. His eyes were watery, and a small bit of drool seeped from both sides of his mouth. Jud stood beaming before me, proclaiming him the "cutest puppy ever", and I remember thinking to myself how unhealthy this small pup seemed. He had already named him Cain, and among all of his pleas to keep him, (and there were many) there was one remark that has stuck with me to this day, "Look at his eyes mom, they're beautiful. He has one blue eye!" I couldn't say no!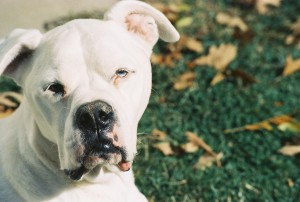 As fate would have it, my life and Cain's would change a little over a year later! The fall semester was in full swing, and Jud had found a room mate who also had a puppy. Things seemed to be working out okay, but everything changed in the blink of an eye when one day his roommate let the dogs out in the backyard to play, only to discover when he went to let them in, that Cain was gone! There had been a group of men working on the house next door that day who claimed they hadn't seen anything, but the gate was closed and Cain couldn't jump. Doubts were raised…
For two long months we searched tirelessly, combing the streets, tacking fliers to telephone posts, posting in the lost and found, and checking every shelter and veterinary clinic within a 10 mile radius. After being told of the prevalence of dog fighting in the area, we feared that Cain had been stolen, and was possibly being used as a bait dog. I was beside myself, and wouldn't give up in the search to find him. I spent my days off driving hours away from home to scour the back roads of northern Colorado. It all seemed so hopeless, and gave new meaning to the term, "trying to find a needle in a haystack". It opened my eyes to many things, among them dogs living lonely lives on the end of chains, which I witnessed by the dozens during my search. I poked my head into what seemed hundreds of backyards. I spoke with psychics, and I visited with a police friend who confirmed the dog fighting stories I had been told about. I was scared for Cain, and desperate to find him, and probably seemed a crazy woman when I walked into the local newspaper and asked to place a half page ad in the most popular section of the paper. I don't remember if it was the entertainment section, or the obituaries, but the size of the ad, along with a photo of Cain, and a $500 reward brought a call the following day. A woman had found Cain a couple of weeks earlier. He was quite thin, and there was no telling where he had been for the other month and a half, but he was safe, and within a few weeks, the dog that I had told my son he had no business having, had stolen my heart and moved in with me!
As it turned out, Cain was born with a host of medical issues. He had an abnormally short tongue, a malformed pharynx, rear leg muscles that never fully developed, and a knack for getting sick often. He couldn't run or jump like other dogs, he couldn't eat or drink without assistance. He never managed much more than a muffled woof and he drooled a thick mess of gooey saliva constantly, which he chose to share with everyone he met. We spent more time at our veterinary clinic each year, than most dogs do in a lifetime, and I believe to this day that had Cain not chosen my son on that day in 1999, his life would have turned out far differently. Perhaps this gives even more meaning and reason for those who believe that all things are meant to be, and everything happens as it should. I was told on far too many occasions that Cain was lucky to have me, but I knew better…I was the lucky one. Cain was my best friend, my four legged partner, he went everywhere with me, and was always by my side. For all of my faults, he loved me more than I ever felt I could return.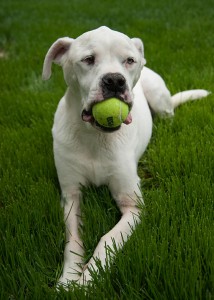 Cain never possessed any special talents, or feats of athleticism. He was never honored for any exemplary acts of courage or service. He had no claim to fame other than a short stint visiting patients in an assisted living center. The patients even seemed to be able to look past the drool that ran incessantly from his mouth! What he did have though, was an uncanny ability to communicate, and understand, far better than many humans. Spelling words became a common practice within his ear shot, and for all I know, he may have figured that out too! Cain showed extreme love and shared it with everybody he met, almost to the point of being obnoxious at times. No one was a stranger and no one was ever spared! He always wanted to be a part of everything; and he let you know it! There was something so very special about Cain. He was a dog that defied the unfairness that plagued his body, and he taught me and everyone who knew him, the true meaning of our existence, by living each moment of life with love and acceptance.
He was my hero,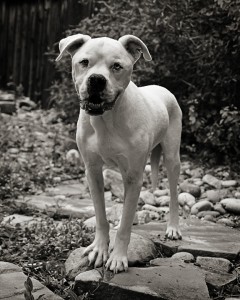 simple as he was.
My dogs inspired me to launch Wishcuit, in 2008, but my plans were quickly put on hold when a routine chest x-ray discovered a cancerous tumor in Cain's lung. It was a devastating blow and a wake up call that the time we had left to spend together would come to an end far sooner than I could have ever imagined. My dog, who had managed to overcome every illness, who had baffled veterinarians and specialists alike, who had just turned nine years old, now had to battle cancer. It certainly didn't seem fair, but we charged ahead. Through surgery, and chemo treatments, and countless visits to the vet, we weathered the storm, and fought his cancer together. Our bond and the love that we shared grew stronger with each day, and I always did my best to stay positive in his presence. That's not to say that my heart wasn't breaking. My emotions poured out through my fingertips on so many sleepless nights, effortlessly conveying my thoughts through my blog. My tears were never ending.
Yes, he came into my life on a summer day in 1999, and it was on another summer day in 2009, while working in my garden, that I looked over to see Cain lying next to a chair on the patio. I took a break and sat beside him, relishing our quiet moment together, and as we sat, I sketched a tiny stick figure drawing on a scrap of paper. It's simplicity depicted all that he meant to me…love, pure and simple.
A few weeks later, on November 12, 2009, Cain passed away. I had lost my best friend again, but this time there would be no back roads to search. There would be no happy reunion. This time my search would take me deep inside my heart to places I had never been before, where I discovered a grief that felt irreparable, and a void so great, that I felt I couldn't go on.
I never spent a lot of time preparing for the moment that I would no longer have him by my side. I held on to the hope that he would be able to fight this demon and win just as he had so many times before. I chased away the dark cloud of finality, and kept it at a safe distance. I embraced every single second that we had. I'm certain that no matter how much I would have "prepared", no amount of preparing would have made me ready for that day and the unbearable grief that it brought. Without invitation it still continues to visit me unexpectedly from time to time.
Shortly after Cain passed away, the tiny drawing that he inspired became an outlet for my grief. I created the Loves Adds Up campaign in his memory, and found it comforting and a way to honor his life…a way for me to keep his love alive by continuing to spread the lessons that he taught me, and spread it has! The campaign has traveled around the world and thousands of stickers and magnets that depict the image have been sold to raise funds for shelters and funds for clinical trials that benefit dogs with naturally occurring cancer…trials that may someday lead to a cure for both animals and humans. All from love…it truly does add up.
Cain's love and life lives on through me. There isn't a day that goes by, that I don't think of him; sometimes with tears; always with a smile and a deep love in my heart. If I can pass along the love that he so freely shared without condition, and help more dogs along the way, then I know I'm living my life the way he wanted me to.
Did I define the moment on that summer day in 1999? I don't think so, but thanks to the love from one very special dog, that moment certainly defined me!
Love never dies, it goes on and on and on, and you know, he really did have the most beautiful eyes. FTLoCA❤