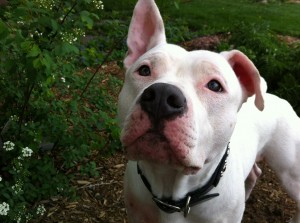 Have you heard of Cyberknife?
To put it quite simply, Cyberknife is a non-invasive alternative to surgery for the treatment of both cancerous and non-cancerous tumors anywhere in the body. I know what you're thinking…just hearing the name probably has images running through your head of scalpels and surgery, but CyberKnife treatments don't involve any cutting! This robotic radiosurgery system is non-invasive, and designed to treat tumors throughout the body by delivering beams of high dose radiation to tumors with extreme accuracy, while avoiding healthy body parts that could be damaged by its beam. It's pretty amazing stuff!
Anyways, while I was sniffing around on the internet for information on treatments for canine cancer, I found this great article, CyberKnife RadioSurgery in Pets, which explains CyberKnife way better than I can. Let me know what you think!